Marin Commercial Property Management
We can Help Manage Your Marin Commercial Property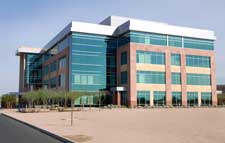 Office, Warehouse & Retail Buildings
Losk Commercial Real Estate, Inc. offers a full range of management services for commercial property owners. The Company uses the latest computer software and is highly experienced in handling rent collections, vendor payments, financial reporting and various tenant issues. The company has long standing relationships with local contractors and vendors which enable the property owner to receive the best prices and prompt service for repairs and maintenance. A fee schedule can be customized to fiteach client's specific needs.
Full Service Management Program
Lease administration
Timely rent collections
Tenant relations
Frequent site visits
Vendor hiring, supervision and monitoring
Monthly and annual income/expense reports using state of the art web based management software
Long and short term budgeting
24/7 on call emergency services
Sales and Leasing through North Bay Commercial Real Estate
Since 1983, Losk Commercial Real Estate, Inc. has been selling and leasing office, warehouse and retail buildings in the Marin and Sonoma County areas. The Company has experience in sales and leasing of Class A office buildings, single tenant triple net buildings, downtown retail buildings, multi-tenant office & warehouse buildings and raw land. Through our affiliation with North Bay Property Advisors (http://northbayprop.com), Losk Commercial Real Estate Inc. is able to continue to adapt and grow with today's changing commercial real estate market as well as expand its market coverage and access to quality investments both locally and outside California.
Catering to small and medium sized businesses, Losk Commercial Real Estate Inc. primarily specializes in tenant lease spaces 20,000 square feet or less. The Company leases office, industrial and retail spaces in Marin and Sonoma Counties through North Bay Property Advisors. This service covers all aspects of the sales and leasing process which include listing vacant spaces and buildings for for property owners to acting as a tenant representative in search of space to lease or buildings to purchase. We also provide lease consulting services for both owners and tenants.
Want to learn more about our commercial property management services? Contact us!
Inquire About Our Services